Today's book review is on 'The Two Towers' by J.R.R. Tolkien. It is the second book in 'The Lord of the Rings' trilogy.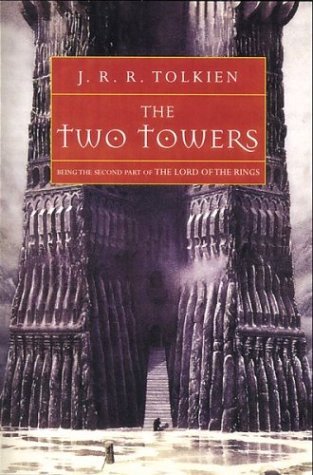 The Tow Towers by J.R.R. Tolkien // Review
Frodo and his Companions of the Ring have been beset by danger during their quest to prevent the Ruling Ring from falling into the hands of the Dark Lord by destroying it in the Cracks of Doom. They have lost the wizard, Gandalf, in a battle in the Mines of Moria. And Boromir, seduced by the power of the Ring, tried to seize it by force. While Frodo and Sam made their escape, the rest of the company was attacked by Orcs. Now they continue the journey alone down the great River Anduin — alone, that is, save for the mysterious creeping figure that follows wherever they go. -From Goodreads
Genre: Fantasy // Classics // Sci-Fi // Young Adult // Fiction
My Thoughts: The first half of the book I really enjoyed, but when I got to the second half I just got kind of bored and it felt like a drudge to read though. If you read my FOTR review, you'll know that I particularly don't care for Frodo, so I wasn't looking forward to it. But all of a sudden I was reading the last few chapters and got back into it! The cliffhanger was great and I ended up liking it.
Writing Style: Tolkien is very descriptive in his writings, which I kinda zone out in, but the more you read it, the easier it'll get.
Story Line: As the series progresses, we start to see more action and conflict. We also see how the decision making process changes for the characters as desperate times call for desperate measures.
Characters: Frodo was pretty much the only one I didn't care for. Out of the newly introduced characters, my favorites were Eowyn and Faramir! ❤
Favorite Part: The battle of Helm's Deep was my favorite part. Especially when Legolas and Gimli would fight and play their game at the same! XD
Cons: Other than it getting a little boring at times, I don't think there were any cons.
My Rating: 4 Stars ****
Conclusion: I ended up enjoying this book and would recommend it to anyone who reads!
I hope you liked this review! Til next review darlings! ❤